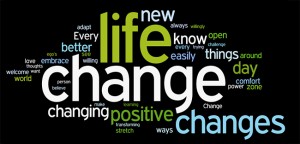 caclce.onmason.com




Change - When Change occurs how do we respond to it? What is our natural inclination? To resist or to welcome it and try to process and cope with the changes. Change often means letting go of the familiar, letting go of the old, letting go of perhaps rituals, at times change affects our livelihood and our lifestyle. It is not easy to let go of something that one is used to, it is not easy to let go of something that you claim as your "own," and therefore for so many of us change can create such mixed emotions and often hasty and impuslive decisions.
Think about the emotions that run through you
when change hits you. Do you begin to feel butterflies in your stomach? Do you begin to feel angry? Do you begin to wonder "why me." ? Do you feel anxiety? Take a look at the various emotions that we feel and begin to notice how that can impact your daily routine - does it affect your sleep? Does it affect your eating habits? Does it affect your mood? Begin to take note of the impact the emotions have on your day to day life.
Let us do the reverse now. Let's say we find out about a major change in our life. It could be a company shutting down, it could be a promotion/demotion, it could be a break up, it could be a closing of a chapter in your life such as entering the work force, it could be an illness, or it could be beginning a new chapter in your life such as marriage, pregnancy, new job, etc. All of those could either be viewed in the positive or negative. But when we find out about the change, let us try to see what would happen if we begin to view the change as something that could actually be beneficial to us. There is a wonderful quote " When one door closes, another opens; but we often look so long and so regretfully upon the closed door that we do not see the one which has opened for us." That quote says it all. If we choose to look at the change in a positive way or rather how we could either learn from it and grow from it, rather than regret and negative emotions, our process of adjusting to the change is easier. This takes years and years of practice. It does not happen overnight.
barackobama.com
A couple of months ago, I was talking to a friend who was describing the organizational changes that were occuring in her company. I saw how she had been impacted by it in terms of being traumatized by losing her position and the morale that accompanied her. Every day in this day and age, corporate companies practice the rule of "lay offs" and it is sad to see the panic, the phobia, the anxiety it creates in individuals who don't know where their future lies - it is at the mercy of someone elses' hands and I admit - it is a horrible environment to live in , yet at the same time, we as individuals have a right to not let anyone have that much control over our emotions and our perspective.
So processing change and dealing with change is about really understanding what the change is.
I attended an online course on Journaling and change - and the author Ms. Franscisco, (
http://www.leiafrancisco.com/
) says that in order to cope with change - we need to be able to "Name that change." So what is the change that we are undergoing? If we can name, it, we can begin to learn to cope with it. So for those that are experiencing change in their lives - it is about identifying the change - Is is unemployment? Is it lifestyle? Is it health related? Identify it and how you are being affected by the change. Make lists of ways in which you believe you have been affected by the change when you first name it. Ask yourself - what steps do I need to manage this change? Is it more training? Is it more networking? Is it asking for more support? Then begin to identify your supports. Who will be the person I can go to for support? Are there organizations I can reach out to for support. Then it is also important to look at What I need to let go of ? What is it that I did in the old part of my life whether it is a job or a personal issue that will no longer serve me? What do I need to push myself to do more of? Ask yourself these questions. And make time to write it down.
It is also about acknowledging the lossess you leave behind. If you have been at a job for 25 years and you are let go- it is important to give yourself that time to grieve the loss, acknowledge the loss but not get stuck in it. If you have been unemployed for a certain amount of time, it is important to take a look at what you must release from your past, and what you must take with you as you move forward. It is very important to be specific about what you want to release. If it is a break up with someone, it is important to acknowledge the loss, but look at the positives and the negatives of the relationship.
We carry alot of unexpressed, residual anger about our losses - and losses happen more than once in our life. If we haven't really taken the time to acknowledge the prior losses, it is literally a build up of our past. So even though we may be dealing with a current change/loss, so many times, all our past emotions about our prior losses also come flooding in especially if we haven't processed it or let go of it. Whether we realize it or not, we need to be mindful and honest with ourselves as to what we are releasing so when we start something new, we don't carry it with us. Along with that, think about the positive things that you want to take with you as you move forward with change. What are the positives about your old chapter, life that you still need to survive to move forward. Don't be afraid to shine your strengths.

livingwithra-nan.blogspot.com

Make a Column - Weakness & Strengths and write down all that comes to your mind when you think of the two. These can also include qualities and emotions. It all doesn't have to be skills. It can be people. it can be faith based. It could be expectations you have of yourself. It could be your self image. It could be your view how you think your life should progress. Acknowledge that there are some relationships that you still hold value. What are your guiding principles, your values?
As with any change - once you begin to Identify it, and acknowledge it, be aware that you are subject to a rollercoaster of many emotions. I always like to look at change and compare it to Elizabeth Kubler Ross's 5 Stages of Grief. Denial, Anger, Barganing, Depression, Acceptance. We need to be mindful and continously check in with ourselves as to what the emotions are that we are experiencing. Sometimes we can get stuck in one of those for a very very long time and that is why checking in with ourselves is important. A simple writing prompt such as " What am i Feeling right now?" What do i need more clarity about.?
A great way to check in with your self that I read somewhere is a Daily Word that you put on your calendar to describe how you are feeling every day. It requires not much writing but is still a reminder of where you are right now.
Changes have different parts to it - the ending of something, the in between period where you don't know where you stand and the beginning of something new. It is important to be aware that sometimes even though we may be physically starting something new, our minds/our memories, may still be in the past. An example - Lets say we are unemployed due to lay offs at companies - and we have been out of work for some time, but we are beginning a new job very soon - we get into it right away, we move right along, but along the way, we begin to feel a little restless. In talking to someone we find that we are still holding on to our old job - something as simple as we still carry around our old business card from my prior job or something even deeper by purposely not going in the area where you want to go. Something like this involves a ritual - a ritual of letting go - getting rid of the business card - trying to have lunch in the old area where you worked, or something that is meaningful to you.
livingwithra-nan.blogspot.com




Once you begin that process, you will see that you look forward to the new change. I encourage you to write, even if it is listing goals, things that need to be learned, the strengths and techniques that has helped you.
Write it down - write it all down - when you Write, you release - when you write you get more clarity. If you are going through a change - take the time to do that for yourself. And most of all I will say this repeatedly - sometimes things happen to us because there is a meaning behind it - the universe is trying to teach us something, the universe is trying to call out to us to answer its call and if we continue to ignore its callings, there will be more than one experience in different ways to wake us up.
In Sum, Change initially may be viewed as a negative thing, but it doesn't have to be. Therefore, if you are faced with it - embrace it rather than resist it. And write about it.
Happy Journaling!